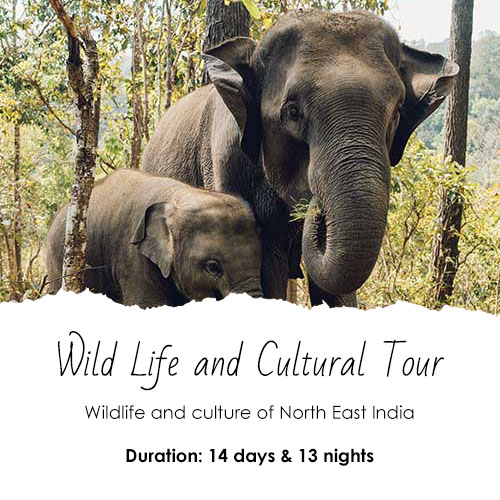 Wild Life and Cultural Tour
Duration: 14 Days – 13 Nights
Key Destinations
1. Guwahati
2. Manas National Park
3. Pangban Bhutan
4. Shillong
5. Cherrapunjee
6. Mawlynnong – Dawki
7. Pobitora Wildlife Sanctuary
8. Kaziranga National Park
9. Majuli
Trip Type
Nature Tour, Sight Seeing, Wild Life Tour
A complete package for tourists who wants to explore both wildlife and culture of North East India at the same time. To explore wildlife of this region, this package covers Manas National Park, Kaziranga National Park and Pobitora Wildlife Sanctuary. For culture and sightseeing this package covers most of the famous tourist destinations in Assam and Meghalaya featuring major culture tour destination of Assam "Majuli Island".
Arrive at Guwahati - Day 1

Pick up from Guwahati airport / railway station. Evening is free to enjoy the River Cruise in the mighty River Brahmaputra. Night stay in Guwahati.

Guwahati Sightseeing - Day 2

After breakfast visit Kamakhya Temple on Nilachal Hills. It is suggested to obtain a special pass to avoid waiting time. Later charter a ferry to Umananda Temple situated on the Peacock Island known as smallest River Island on Earth. After Lunch visit the famous Kalashetra – unique place where life and culture of Assamese people is beautifully depicted.In the evening go for shopping in and around city. Night, stay in Hotel.

Guwahati – Manas (200 Km / 4 Hours) - Day 3

AM: Breakfast / checkout, drive to Manas National Park (A UNESCO world heritage site and Tiger reserve). Drive is 250 kms / 5 hours. On the way halt and visit tea estates. PM: Check in to your hotel and overnight at Bansbari Lodge in Manas National Park.

Manas National Park (Elephant and Jeep Safari) - Day 4

Early morning wake call to get ready for Elephant safari. After breakfast, Jeep safari. There are maximum chances to see -Rhino and other species such as wild boar, hog deer, swamp deer, wild buffalo, elephants and tiger. Night, stay in Manas.

Manas National Park – A Trip to Pangban Bhutan (17 kms / 2 hours) - Day 5

AM: Breakfast a day trip to Pangban- a town bordering Bhutan. Here you spend some time leisurely and later return back to Manas. Night stay in Manas.

Manas - Shillong (230 kms / 6 hours) - Day 6

AM: Breakfast/checkout drive to Shillong (Capital of Meghalaya, abode of the clouds), Stops during the drive: – Good Vegetarian Restaurant at Jorabat called Makhan Bhog. Midway halt at Umiam Lake for tea / coffee, snacks, fruits. Afternoon: Check in to your hotel. Evening is free to explore the century old Wards Lake and the Police Bazaar. Night, stay in Shillong.

Shillong - Day trip to Cherrapunjee - Day 7

AM: Full day trip to Cherrapunjee (56 kms / 2 hrs), the wettest place on earth. (This is a very scenic drive enabling one to see deep gorges and cloud covered hills). Return to Shillong after lunch. Night stay in Shillong.

Shillong - Mawlynnong - Dawki – Shillong (90 kms / 2-3 hours) - Day 8

After breakfast drive to the cleanest village in Asia- Mawlynnong. On reaching Mawlynnong you can visit The Village, Balancing Rock and Living Root Bridge. Later drive to Dawki. Here you can enjoy boating in the crystal clear river Umngot. The crystal clear water of Umngot remains as everlasting memory to who so ever visits. Later visit the Indo-Bangladesh border and drive back to the Shillong. Night, stay in Shillong.

Shillong – Pobitora Wild Life Sanctuary (130 kms / 3-4 hours) - Day 9

Today after breakfast transfer to Pobitora wild life sanctuary. Pobitora is known for its highest density of Rhinos. Check in to your Hotel. After lunch move out for Jeep safari. Night stay in Pobitora.

Pobitora -Kaziranga National Park (200 kms / 5 hours)- Day 10

Early morning wake call to get ready for Elephant safari. After  breakfast check out and drive to Kaziranga National Park. (The land of Big Five. Kaziranga National Park is also known as Hub of one horned Rhinoceros. Recently declared as Tiger Reserve). Afternoon: Check in to your hotel. Evening time is there to visit nearby tribal village, Tea Estates and all other activities available in the hotel.

Jeep Safari at Rhino land and optional Elephant Safari - Day 11

AM: OPTIONAL: Early morning wake up call for Elephant Ride at Rhino land, 1st ride at 05.30 hrs to 06.30 hrs, 2nd ride at 06.30 hrs to 07.30 hrs) – choose any option. PM: Jeep Safari. Night stay in Kaziranga.

Kaziranga National Park – Majuli - Day 12

AM: Breakfast / checkout, drive to Majuli. Drive is 100 kms / 2 hours. (Majuli is the largest river line Island on Earth. Majuli is also the abode of the Assamese neo-Vaisnavite culture. About 25 – 26 Satras are remaining now in Majuli of which the Sattras of Kamalabari, Auniati & Garmur are worth mentioning. These Satras are propagating the religious ideology of great Assamese medieval Vaisnavite Saint Sankardeva & Madhavdeva, preaching Satria culture. Majuli has been the cultural capital and the cradle of Assamese civilization for the past five hundred years. The Sattras set up preserve antiques like weapons, utensils, jewellery and other items of cultural significance. Pottery is made in Majuli from beaten clay and burnt in driftwood fired kilns in the same mode carried out by the peoples of the ancient Harappa Civilization. Sociologists have stressed on the preservation of these unique peoples, whose culture and dance forms are untouched by modernism. The handloom work of these tribes is also internationally famous. PM: Check in and rest and over night at Hotel Prashanti at Majuli.

Majuli Sightseeing - Day 13

AM: Sightseeing in Majuli Night stay. Highlights – Samaguri Sattra and the tribal villages   to explore the musk making culture. Night, stay in Majuli.

Majuli – Jorhat Airport Drop - Day 14

Today after early breakfast charter a ferry to Jorhat. Tour ends drop at Jorhat Airport.