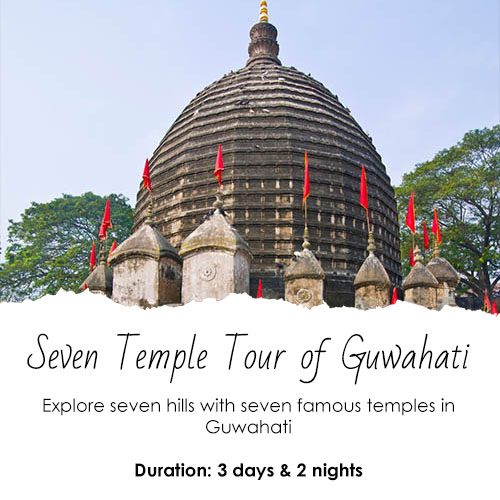 Seven Temple Tour of Guwahati
Duration: 3 Days – 2 Nights
Key Destinations
1. Kamakhya Temple
2. Umananda Temple
3. Sukreshwar Temple
4. Nabagraha Temple
5. Ugratara Temple
6. Hajo Temples & More
Trip Type
Culture & Festivals, Pilgrimage Tour
Guwahati city is also famous as the city of Temples. This city is surrounded by seven hills with seven famous temples in each hill Top. Some of the places like Kamrupa and Pragjyotispura is relates to the period of Pandavas and Siva Purana.
Pilgrimage Tour (Full day operation) - Day 1

Meet and greet on arrival and then transfer to your Hotel. After brief fresh n up charter a ferry to Umananda Temple. This temple situated on an Island which is also famous as the smallest Island on Earth. The British has named it as Peacock Island because of its shape and beauty. Later visit Sukreshwar Temple. Evening is free to enjoy the light and sound show at a unique place call Kalashetra. Night, stay in Guwahati.

Kamakhya Darshan and a trip to Hajo Temples - Day 2

Today after breakfast transfer to Kamakhya Temple. It is suggested to obtain a special pass to avoid waiting time. Later drive to Hajo- famous for Madhava Temple which resembles one of the God of JagannathTemple of Orissa. Hayagriva Madhava Temple is situated on the Monikut hill. The present temple structure was constructed by the King Raghudeva Narayan in 1583. According to some historians, the King of Pala dynasty constructed it in the 6th century. It is a stone temple and it enshrines an image of Hayagriva Madhava. Some Buddhists believe that the Hayagriva Madhava temple, best known in the group of Hindu temples, is where the Buddha attained Nirvana of Vishnu by the Hindus.[4] It is a stone temple and it enshrines an image of Hayagriva Madhav. The rows of elephants are seen on the body of the temple and they are fine specimens of Assamese art. Later visit the Ugratara Temple. Evening is free on leisure. Night, stay in Guwahati.

Bhimashankar Temple | Drop at Guwahati Airport / Station for onward destination - Day 6

Today after breakfast visit Nabagraha Temple. There after transfer to Bhimashankara Temple – as per shiva purana the Bhimashankara Temple has been claimed as the 12th Jyotir Ling. Later drop at Guwahati Airport for onward destination.