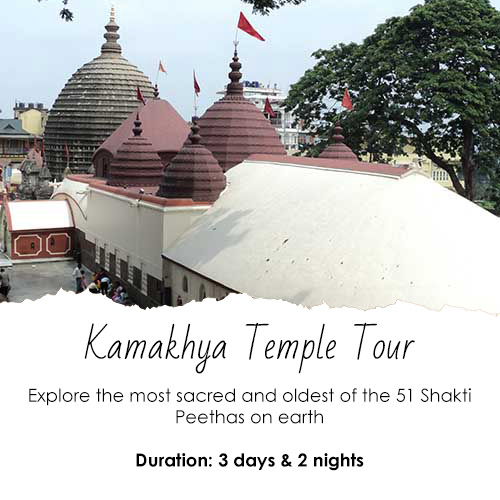 Kamakhya Temple Tour
Duration: 3 Days – 2 Nights
Trip Type
Family Trip, Pilgrimage Tour
Activities
Pilgrimage, Sight Seeing
Maa Kamakhya Temple located at Guwahati, Assam is a Hindu temple dedicated to the mother goddess Kamakhya. It is considered most sacred and oldest of the 51 Shakti Peethas on earth. Kamakhya Temple is located on Nilachal Hills in western part of Guwahati on adjoining banks of Brahmaputra river. There is a complex consisting of several temples around Maa Kamakhya Temple. Apart from this, there are also the temples of 10 Mahavidyas in and around temple. These include Bhuvaneshvari, Bagalamukhi, Chinnamasta,Tripura Sundari, Tara, Kali, Bhairavi, Dhumavati, Matangi and Kamala Temples. Among these, Tripurasundari, Matangi and Kamala reside inside the main temple whereas the other seven are individual temples located on Nilachal Hills.
Guwahati Arrival (Day 1)

Meet and greet on arrival and then transfer to your hotel in Guwahati. After brief fresh n up visit Kalashetra – unique place where life and culture of Assamese people is beautifully depicted. There after visit the Basishtha Ashram. Later you may explore the Fancy Bazaar and the Handicraft market. Night, stay in Guwahati.

Trip to Kamakhya Temple and Guwahati sightseeing (Day 2)

Today after breakfast visit Kamakhya Temple. It is suggested to obtain a special pass to avoid waiting time. There after charter a ferry to Umananda Temple. Umananda is situated on an Island which is also famous as the smallest Island on Earth. The British has named it as Peacock Island because of its shape and beauty. Later visit Nabagraha Temple and the Sukreshwar Ghat. Evening you can enjoy the River Cruise in the mighty River Brahmaputra. Night stay in Guwahati.

Tour ends (Day 3)

Today after breakfast visit the famous Bhimashankara Temple – the 12th Jyotir Ling. There after drop at Guwahati Airport for onward destination.