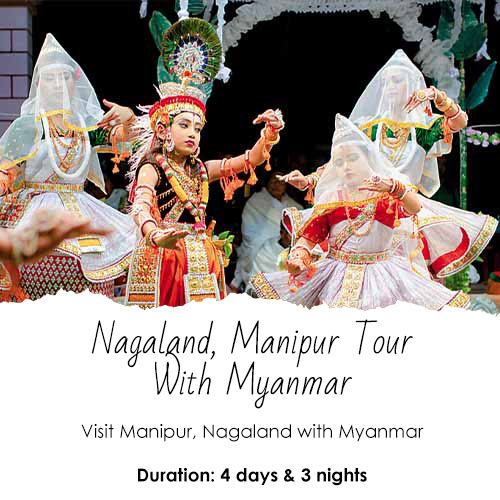 Nagaland Manipur Tour With Myanmar
Duration: 7 Days – 6 Nights
Key Destinations
1. Dimapur
2. Kohima
3. Imphal
4. Loktak and Keibul Lamjao
5. Moreh
Trip Type
Adventure Tour, Colonial Style Tour, Educational Tour, Family Trip, Nature Tour, Sight Seeing, Trekking, Wild Life Tour
Manipur is a state in North East India with Imphal its Capital bordering Myanmar. It is bounded by Nagaland in the North. Kohima is the capital of Nagaland and Dimapur is the commercial city of Nagaland. Manipur has been at the crossroads of Asian economic and cultural exchange for more than 2,500 years. Manipur is also famous for its years old art, cultural and history.
Nagaland is a mountainous state in northeast India, bordering Myanmar. It's home to diverse indigenous tribes, with festivals and markets celebrating the different tribes' culture. Its capital city of Kohima suffered heavy fighting in World War II, commemorated by memorials at the Kohima War Cemetery. The Nagaland State Museum exhibits ancient weaponry, a ceremonial drum and other traditional Naga cultural artifacts.
Dimapur Arrival - Day 1

Meet and greet on arrival and then transfer to your Hotel in Dimapur. After brief fresh n up visit the Dimapur Township. Later visit the ruins of Kachari Kingdom which is famous for its Monoliths. ( 12 Km from the city) . Night, stay in Dimapur.

Dimapur - Kohima (75 kms / 2 hours) - Day 2

Today after Breakfast transfer to Kohima the capital of Nagaland. Check in to your Hotel in Kohima. After fresh n up visit the War cemetery , Nagaland State Museum and the Kohima Zoo. Night, stay in Kohima.

Kohima – Sightseeing (Full day operation) - Day 3

Today after Breakfast transfer to Touphema village. Touphema is a collection of small huts build in Naga design and decorated like a traditional Naga household intending on giving the tourists the feel of living in a Naga tribal house. In a beautiful hillock surrounded by amazing beauty and greenery, is situated a wonderful village which seeks to introduce Nagaland to the world. Touphema village situated about a 40 km from Kohima. There after if time permits visit the Khonoma Village. Night, stay in Kohima.

Kohima - Imphal (145 kms / 4-5 hours) - Day 4

Today after breakfast transfer to Imphal- the capital of Manipur. On way visit the Khisama Village – the venue for the world famous Horn Bill festival. On reaching Imphal visit the famous Ima market (women market). If time allows may visit the Kangla Fort and also attend the evening prayers in ISKCON TEMPLE. Night, stay in the Hotel in Imphal.

Loktak and Keibul Lamjao - Day 5

Today after breakfast transfer to Keibul Lamjao National Park famous as worlds only floating national park. This park is famous for the dancing deer – Sanghai.Full day boating and explore the Park. Later visit the Lok- Tak Lake. Evening come back to Imphal. Night, stay in Imphal.

Visit to Moreh, Myanmar (Full day operation) - Day 6

Today after early breakfast full day excursion to Moreh – A small town along the India – Myanmar border. Entry to Tamu – village in Myanmar (allowed staying till 2 Pm Myanmar standard time). You need to obtain passes to get entry into the Myanmar. Same will be assisting by our assistant. Later drive back to Imphal. Night, stay in Imphal.

Tour Ends - Day 7

After breakfast, tour ends drop at Imphal Airport.