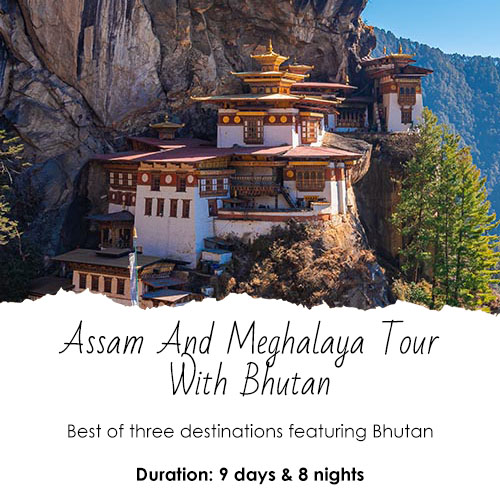 Assam And Meghalaya Tour With Bhutan
Duration: 9 Days – 8 Nights
Key Destinations
1. Guwahati
2. Shillong
3. Dawki
4. Mawlynnong
5. Cherrapunjee
6. Phuentsholing
7. Thimphu
8. Bagdogra
Trip Type
Nature Tour, Sightseeing
A complete package for your family to explore popular destinations of Assam, Meghalaya along with International neighboring country Bhutan.
Guwahati – Shillong (110 kms / 3 hours) - Day 1

Meet and greet on arrival at Guwahati Airport and drive to Shillong – the capital of Meghalaya – the abode of clouds. You can have a midway halt at Umiam Lake. On reaching Shillong visit Wards Lake and Lady Hydri Park. After Lunch visit the Don- Bosco Museum. Enjoy the pleasant evening in Shillong. Night, stay in Shillong.

Shillong – Mawlynnong, Dawki, Shillong (89 kms / 2 and half hours) - Day 2

After early breakfast drive to Mawlynnong (Asia's cleanest village). You can also visit Living root bridge, Balancing Rock and Sky View Point. After lunch at Mawlynnong drive to Dawki – a small village along Indo – Bangladesh Border. The crystal clear water of Umngot will keep an ever- lasting memory in one's mind. You can also enjoy boating here. Later transfer to your Hotel in Shillong. Evening is free to explore the Police Bazaar. Night, stay in Shillong.

Shillong - Day Trip To Cherrapunjee (65 kms / 2 hours) - Guwahati - Day 3

After breakfast drive to Cherrapunjee – this is a very scenic drive enabling one to see the cloud covered hills and the deep gorges. On the way visit the famous Elephant Falls. At Cherrapunjee visit the Limestone caves and the waterfalls. You can visit Arwah Caves, Nokalikai Falls, Mawsmai Caves, Eco Park, Bangladesh View Point and Thangkharang Park. Later drive back to Guwahati. Evening is free to enjoy the Rover cruise in the mighty river Brahmaputra. Night, stay in Guwahati.

Arrive at Phuentsholing from Guwahati - Day 4

Today early morning wake call to get ready to drive to Phuentsholing. Arrive Phuentsholing and transfer to the hotel. Processing of route permit and rest of the day at leisure. Night, stay in Phuentsholing.

Phuentsholing – Thimphu (179 kms / 5 – 6 hours drive) - Day 5

Morning transfer to the capital city Thimphu through the mountains, this journey is of almost unbelievable beauty. The road leads from the northern Indian tea plantations through endless turns, hair pin bends and daring stretches carved into the mountain rock via Chukka to Thimphu. Check in the hotel. Afternoon you can relax and in the evening spend some time in clock tower square and brisk walk around CBD. Stay night in Thimphu.

Thimphu Sightseeing - Day 6

When in Thimphu you got to prepare for surprises where this unique capital has no traffic lights but adopted its own version of the British – Indian colonial times traffic policemen who can startle you and memorize others with his elaborate hand gestures, sometimes he may be signaling stop when it looks like go but don't worry you can observe the flow and notice his smile as you stare at him. Sightseeing includes the Folk Heritage Museum, National Library, and Handicraft Center to view the traditional arts, the indigenous Medicine Hospital, the Painting School and from the road point take a glimpse of Tashichho Dzong. Further drive uphill and visit Takin Zoo where you will find national animal of Bhutan. Afternoon visit National Memorial Chorten a stupa dedicated to the third king of Bhutan and Buddha statue. Evening take a walk to the main city from Clock tower square. Night stay in Thimphu.

Thimphu – Paro Valley (65 kms - 1 hour drive) - Day 7

Morning drive to Paro valley and visit the National Museum housed in a round fortress called as the Ta Dzong considered being one of the best natural history museums in Asia where it has a fine collection of natural and historic artifacts. Just below Ta Dzong lies Paro Dzong. Afternoon visit Paro Penlop Heritage Farm house, Kyichu Lhakhang, the monastery dates back to 7th century and is one of the oldest and most sacred the ruins of Drukgyel Dzong, a 17th century fortress that used to keep invaders from Tibet and in 1951 the fort was destroyed by fire. Night stay in Paro.

Paro Taktsang (A day long hike) - Day 8

Early breakfast and start your world famous "Tigers Nest "or popularly known as "Taktsang" one of the popular spiritual heritage sites. It was here that the great tantric master Guru Padma Sambhava flew in from Tibet on a tiger to bring Buddhist teachings to Bhutan. Overnight at hotel in Paro.

Paro – Phuentsholing – Bagdogra (4-5 hours drive) - Day 9

Morning transfers to Bagdogra via Phuentsholing. Transit to Indian number vehicle and proceed to Bagdogra for onward destination.